POSTED IN General
June 13, 2018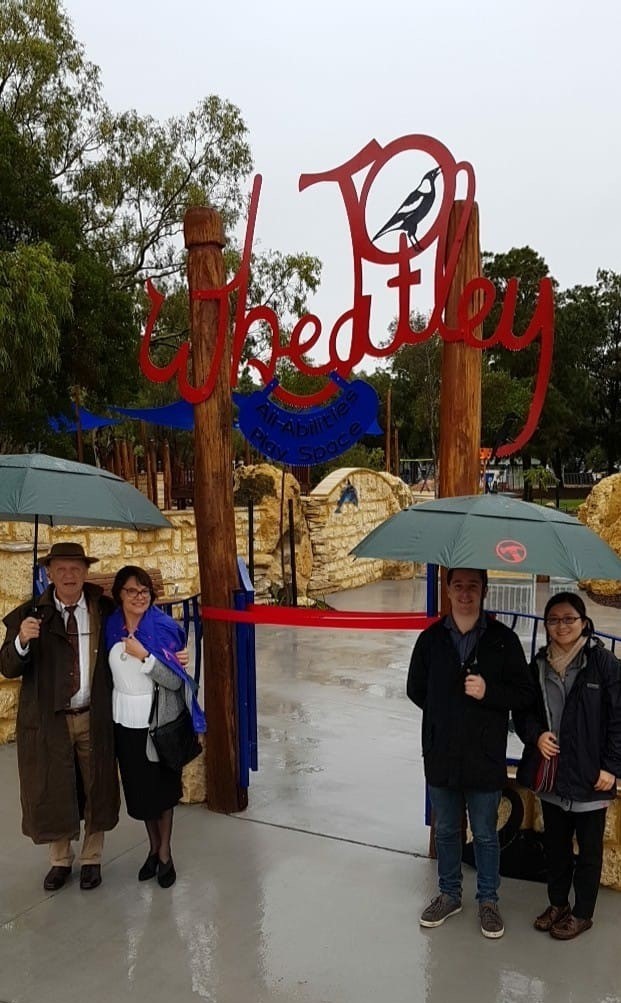 The team from Fiona Robbé Landscape Architects travelled to Dalkeith, Perth last week for the official opening of the Jo Wheatley All Abilities Playspace (Phase One).
This project has been close to our heats since 2012 and has involved many people's hard work and dedication. We would like to thank all of those who were part of the community consultation, fundraising, designing, documenting and construction of this wonderful park and playground. Read about our journey here.
The playground was opened by Nedlands Mayor Max Hipkins and major sponsors Vern and Jo Wheatley. Rotarians Angus Buchanan and Cheryl Jennings represented the Rotary clubs of Nedlands, Subiaco and West Perth. The opening was attended by more than 80 community members and organisation representatives.
Once Phase Two is completed a family fun day will be hosted in the park (estimated for November 2018).
Rolfe, Fiona, Matt and Lulu.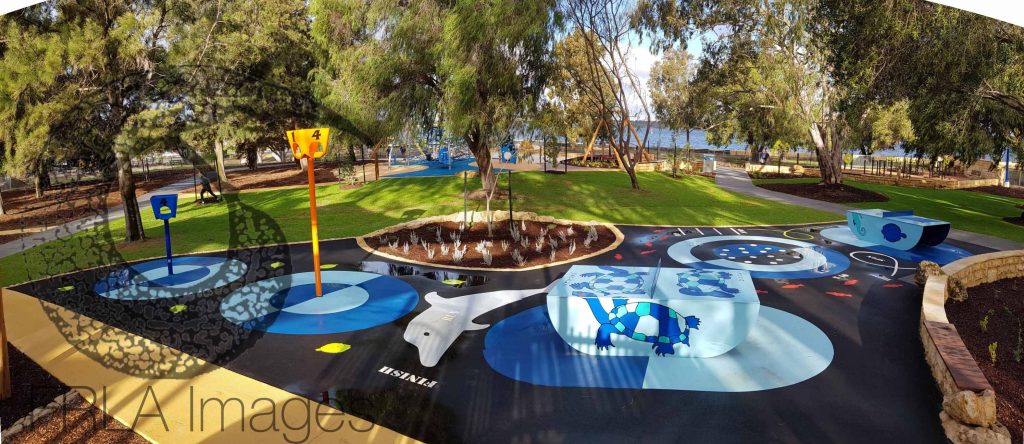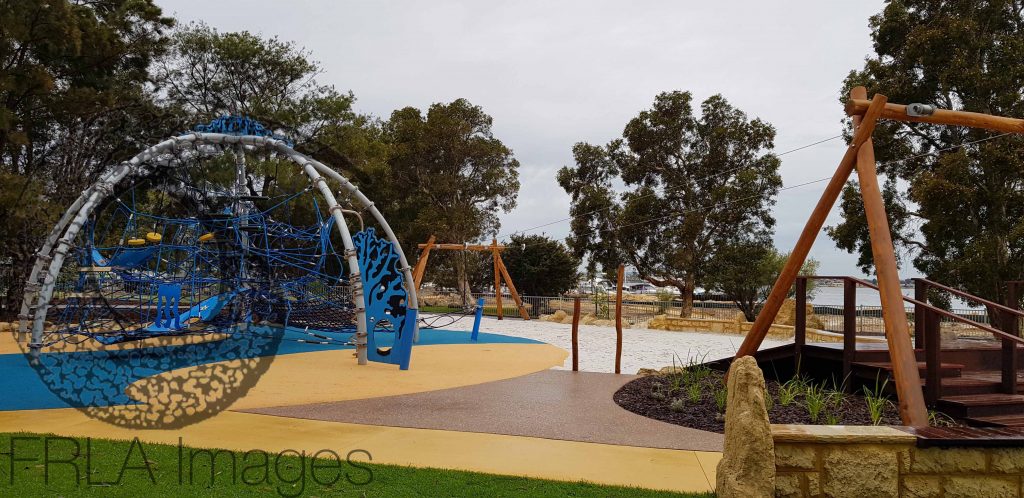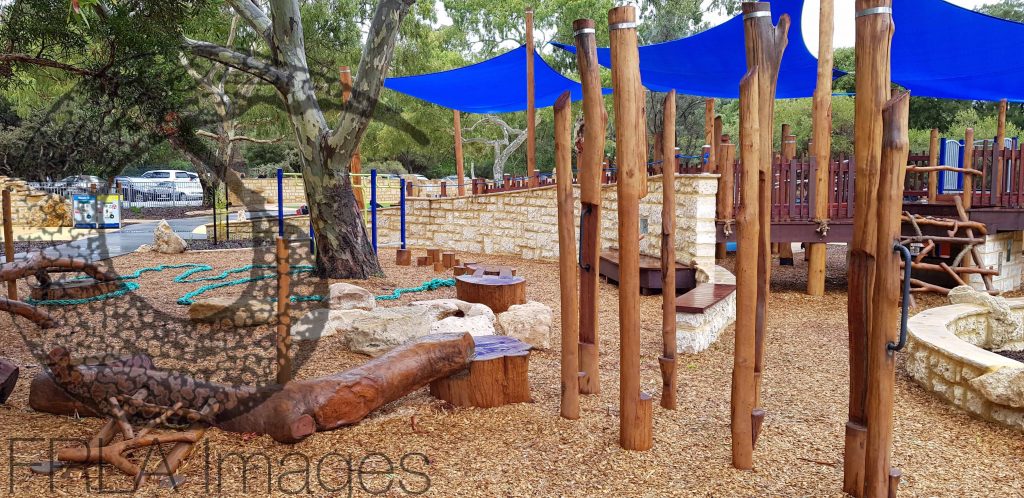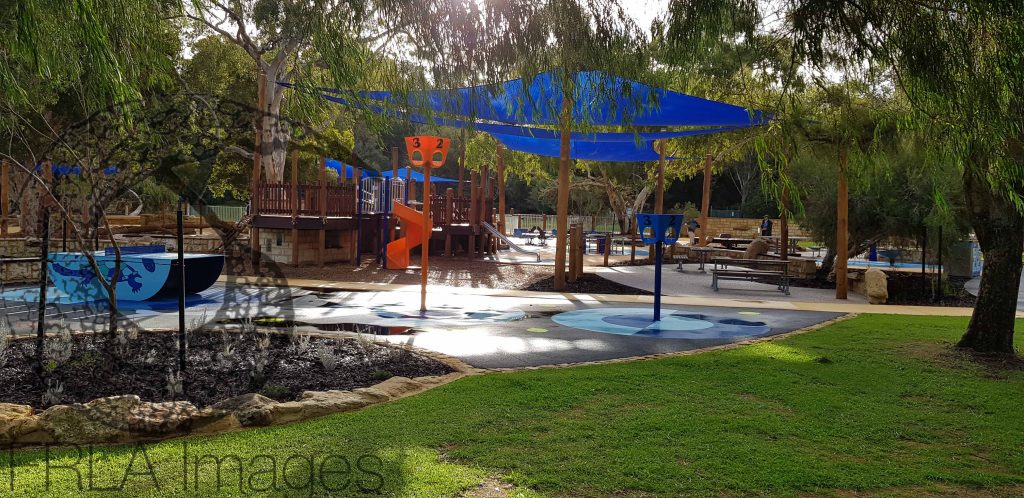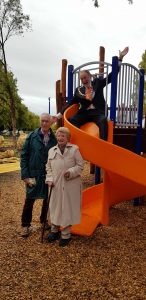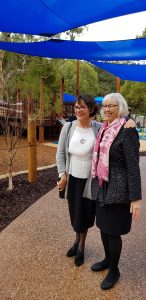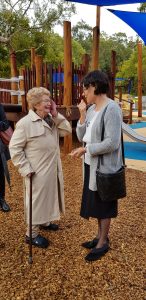 Mayor Max Hipkins with Vern and Jo Wheatley, Fiona and Cheryl, Fiona and Jo.
POSTED IN General
March 27, 2018
On Saturday was a community planting day at Gowrie Childcare Centre (Erskinville). Fiona and Matt delivered a full carload of plants from Planters Patch, Overland Nursery and Valley View Nursery – all wonderful nurseries in Arcadia. We love to proactively give back to our projects in every way we can think of, and a morning of planting at this budding Childcare Centre was a delight!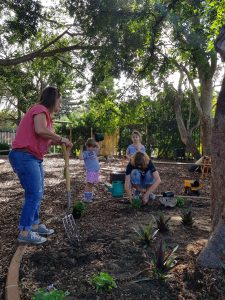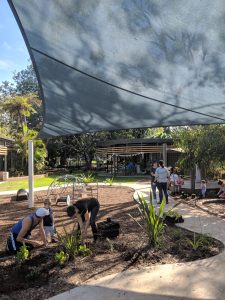 A big thank you to our local nurseries for supporting us!
Planters Patch
Quality perennials in 100mm pots, grown in our nursery and delivered to your door.
Planters Patch is a specialist Online Mail Order nursery based in Arcadia, NSW. The owners of the nursery have extensive experience in growing perennials as they have been doing it since 1992!
At Planters Patch we take pride in our selections and are always looking for new and exciting plants to add to our Online selection for the home gardener and plant collector to enjoy.
We deliver to New South Wales, ACT, Victoria, Queensland and South Australia.
Overland Nursery
Overland Nurseries has been family owned and operated for over 40 years. In that time we have built a reputation for being one of Sydney's premier suppliers of garden plants in NSW. The Overland team has become known for its quality and attention to detail. We strive to offer excellent service to all customers which include; Retail garden centres, landscapers and Hardware retailers.
Valley View Nursery
Valley View Nursery is a family business and was established in 1976 by Paul and Gigi Modde. Valley View Nursery offers quality plants in a quality location with quality service.
We offer a delivery service to retail nurseries, landscapaers and bulk buyers in the Sydney Region, Central Coast & Western NSW. Our range includes exotic shrubs, hanging baskets, Lavender, Azaleas and succulents.
POSTED IN General
January 10, 2018
HAPPY NEW YEAR!
As our office gears up for 2018, we begin by celebrating our achievements for 2017:
• Lady Gowrie Child Care Centre, Erskineville. Gowrie NSW CEO Lynne Harwood joined the Minister for Early Childhood Education, Sarah Mitchell, to officially open the recently refurbished Centre and outdoor learning area. We are proud to be the designers of this large natural play area and are particularly pleased with the timber deck and sandpit around the magnificent mature Hills Weeping Fig tree.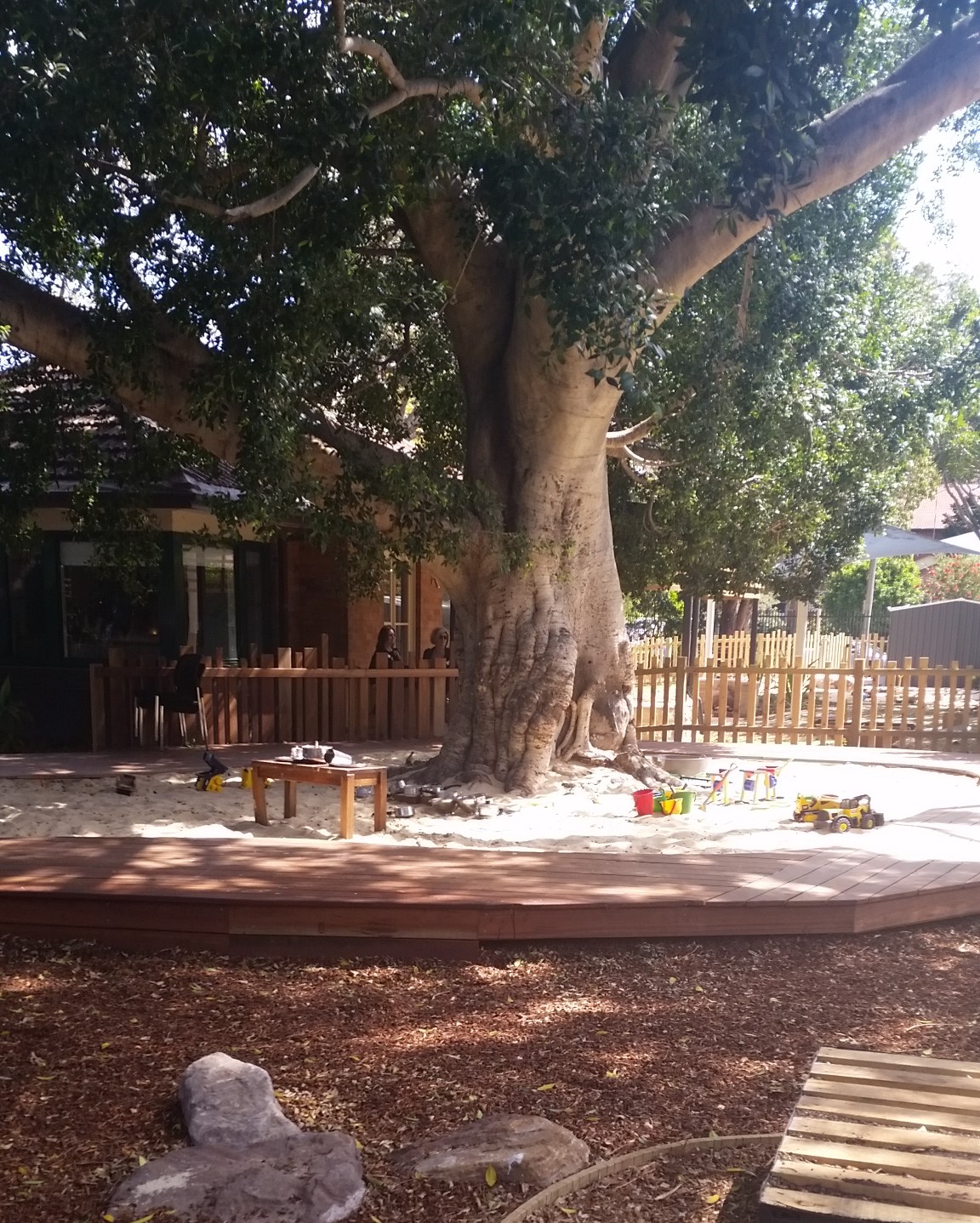 Click image for full-size. (Then click Back button to return here)
• Endeavour Park and Playground, Kings Langley. The park, playground and leash-free dog area were completed and officially opened by Mayor Stephen Bali MP this year. Our office thoroughly enjoyed creating a design based on the epic journey of James Cook from 1768 to 1771, on his ship (The Endeavour). His groundbreaking study of the Transit of Venus, and his explorations around the world are referenced throughout the park and playground. The large park is now being used for all manner of family events and we  are proud of our contribution to community recreation in Kings Langley!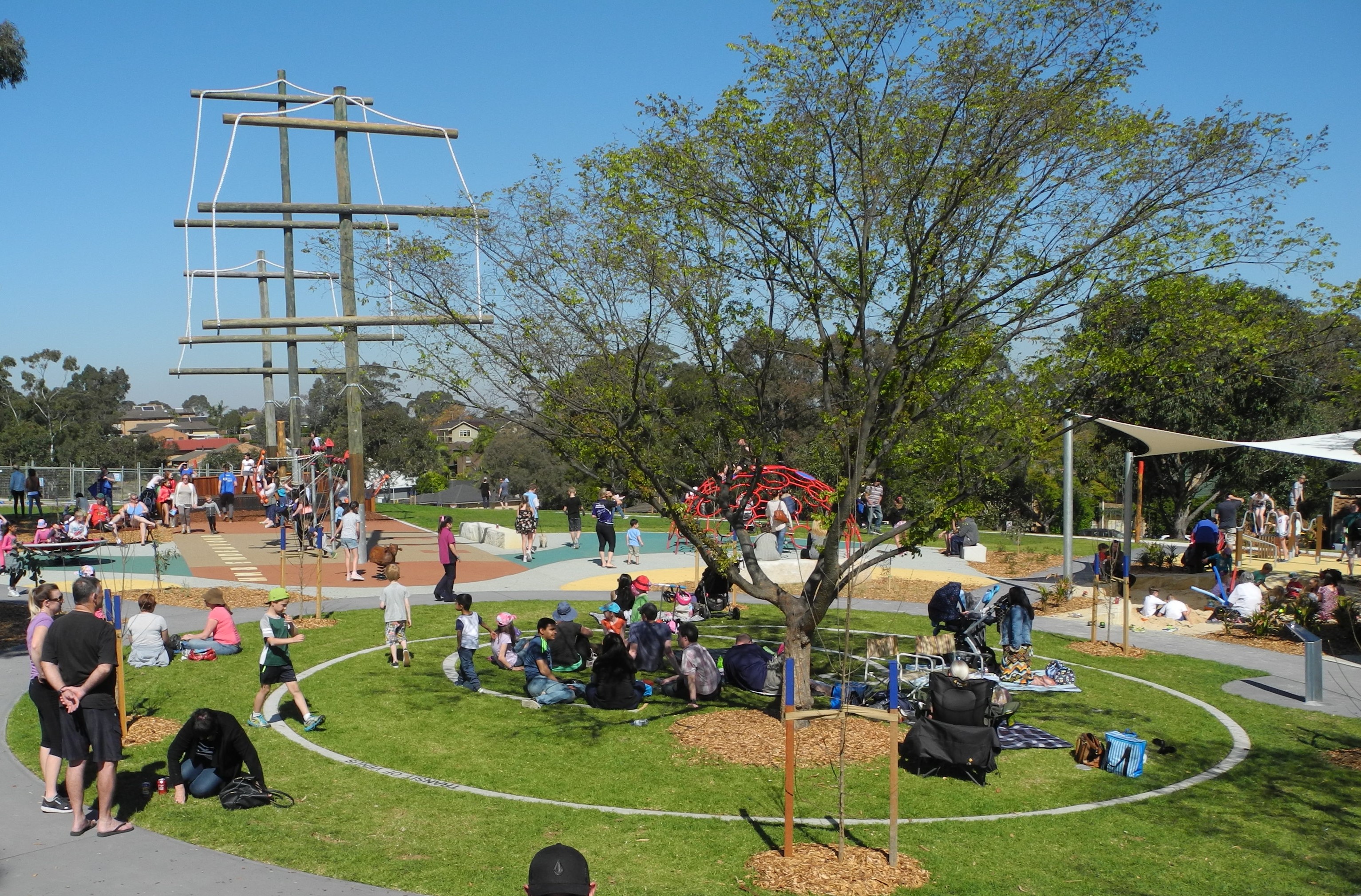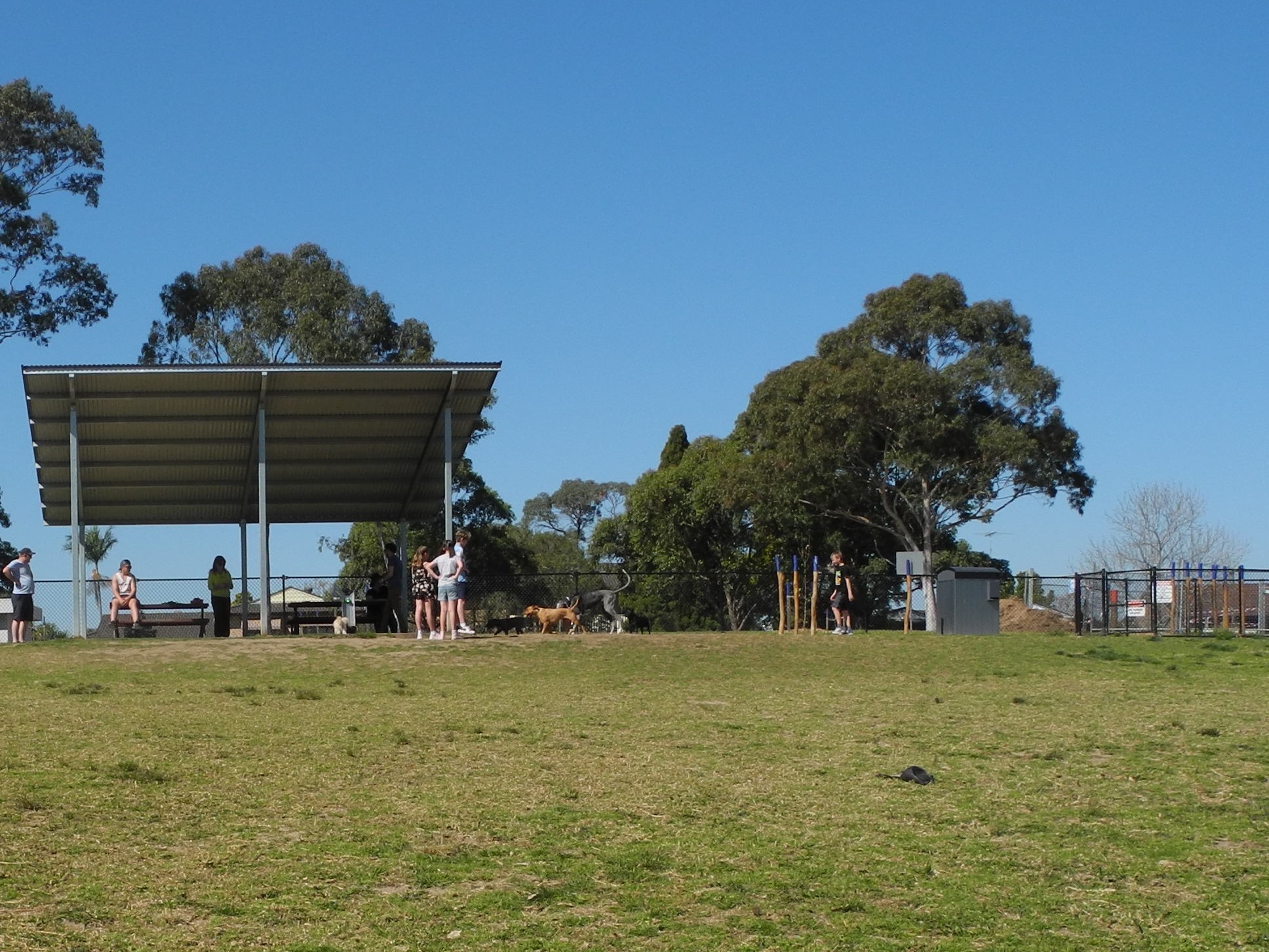 Click for full-size. (Then click Back button to return here)
Other 2017 achievements:
• Proud contributor to the new published Standard AS 4685.0:2017, Playground equipment and surfacing – Part 0: Development, installation,
inspection, maintenance and operation
• Author of the chapter "Designing with children: a practitioner's perspective" in Designing cities with children and young people: beyond playgrounds and skate parks / edited by Kate Bishop and Linda Corkery.
• Key organiser and collaborator for KIDSCAPE play day in First Fleet Park, Sydney CBD, October 2017.
• Conference presentations included:
Kiama: Parks and Leisure Australia – topic: "Hosting a public Play Day"
Auckland: World Forum on Early Care and Education – topic: "Journey into Nature"
• State Inclusive Play Guide: contributors to the new design guide
• Awards:
Parks and Leisure Australia  – National Awards of Excellence: Playspace (<$0.5m) – Halvorsen Park Playground, Ermington
Parks and Leisure Australia  – NSW/ACT Awards of Excellence: Playspace (<$0.5m) – Halvorsen Park Playground, Ermington
---
Now, coming into 2018 it is an exciting time!
This year, in construction:
• Beaton Park (Perth): Stage 1 of construction will be finished in late February/early March.
• Mick Doohan Reserve Inclusive Playground (Oran Park) will commence construction this year.
• White Rabbit Child Care Centre (Naremburn) will start construction, after what has been a long approval process!
• Sydney Olympic Park: Bicentennial Park Playground upgrade will be ready for the April school holidays, featuring our new floor maze challenge
2018 heralds a year of deep thought and industry contributions…
–

Play is emerging as a key factor contributing to better health, and we are committed to contributing to this through a series of forums, seminars and policy papers!

–

Debate on high density living and healthy childhood development is receiving deserved attention, and Fiona is going to be part of brainstorming how we can "Do Density Better".

–

Fiona is also going to be working on a Position Statement on Play for the Australian Institute of Landscape Architects National Advocacy Committee with Mary Jeavons.

–

The Australian Standards continue to be updated, and this year Fiona's position on the Committee will mean that the definition for Outdoor Play will be formalised – a first for Australia!.
POSTED IN General
November 7, 2017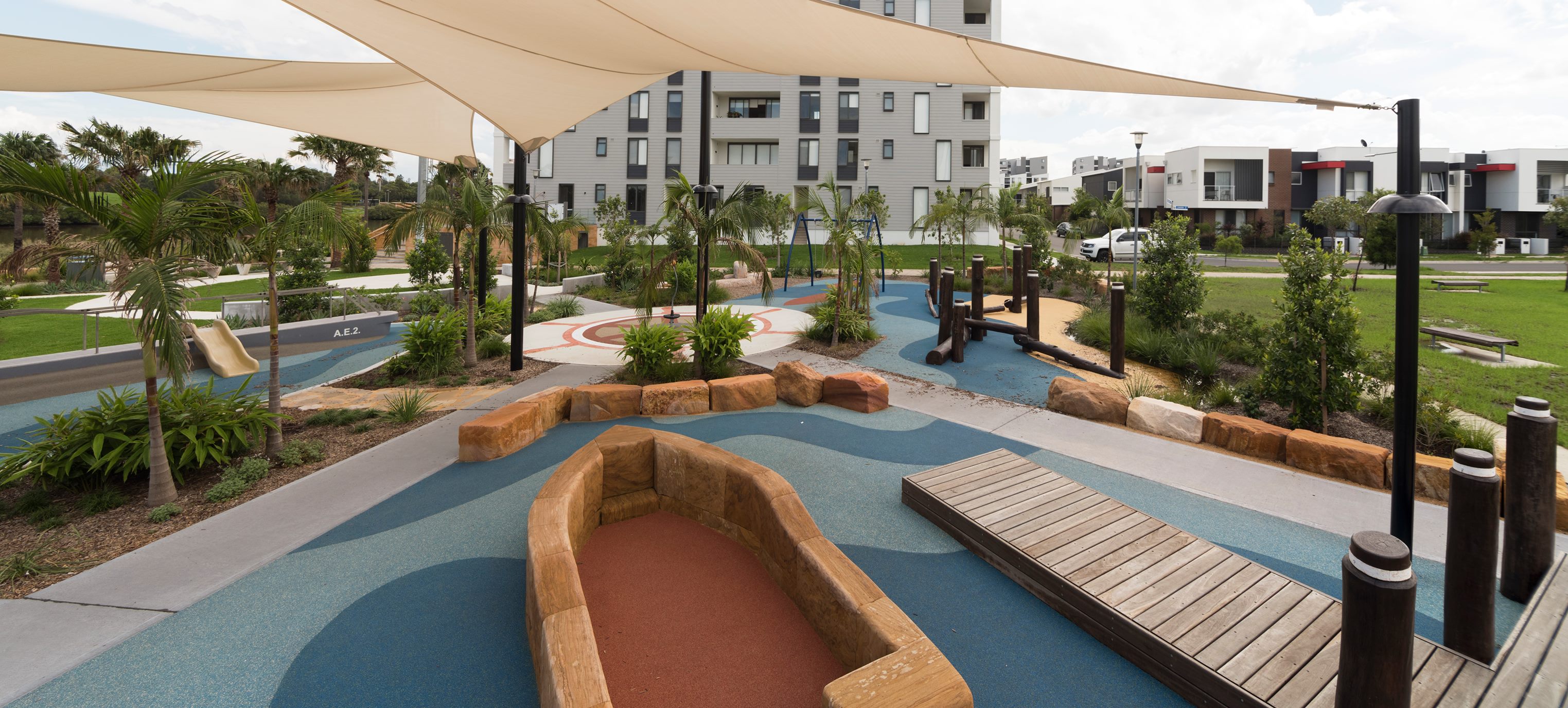 Halvorsen Park Playground has received the National Playspace Award (<$0.5M) from Parks & Leisure Australia! In May, this playground won the Regional Playground Award (<$0.5M) for NSW/ACT, and we are thrilled it has been recognised in the National field! Our office is so proud of this community playground, which represents the nautical contribution Australia made during the Second World War.
1: Fiona accepts the award, MC: Kerry O'Keeffe. 2: Bethanie Tobin (Parks & Leisure Australia), Neville Davis (Parramatta City Council), Fiona Robbe and Anthony-Paul Diaz (Keynote speaker, Los Angeles Department of Recreation and Parks). Click to enlarge image.
We believe there's more skill in designing and creating a small playground, which tells a rich narrative, than a large playground with a lush budget. Small playgrounds must succinctly combine the skills, knowledge and talent of all who contribute (our team included stonework, timberwork, concrete stain artwork, rubber artwork), which is why we are so pleased with this reward that acknowledges high professional achievement.
POSTED IN General
September 26, 2017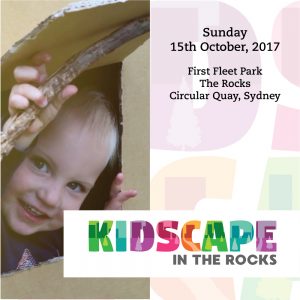 KIDSCAPE is part of the International Festival of Landscape Architecture and is aimed at making sure kids understand the importance of open space in our communities. On Sunday 15th October, KIDSCAPE will offer FREE fun outdoor activities for all kids, from 3 to 13yo. Come and play at First Fleet Park in The Rocks for a day of discovery, learning, playing, planting, building and more!
Fiona will be speaking at the Festival, and facilitating the Gulliver's Mapping activity at KIDSCAPE this year. Click here to see a video and read about last year's KIDSCAPE, held in Haig Park, Canberra.
Secure a spot on some selected activities by registering online or just come along on the day from 10am – 4pm, check the KIDSCAPE website here for more details. See you there!
POSTED IN General
August 22, 2017
Yay (at last) it is here! Designing cities with children and young people: beyond playgrounds and skate parks / edited by Kate Bishop and Linda Corkery. Fiona is so proud to be a contributor in this book, with her chapter Designing with children: a practitioner's perspective.
Designing Cities with Children and Young People focuses on promoting better outcomes in the built environment for children and young people in cities across the world. This book presents the experience of practitioners and researchers who actively advocate for and participate with children and youth in planning and designing urban environments. It aims to cultivate champions for children and young people among urban development professionals, to ensure that their rights and needs are fully acknowledged and accommodated.
With international and interdisciplinary contributors, this book sets out to build bridges and provide resources for policy makers, social planners, design practitioners and students. The content moves from how we conceptualize children in the built environment, what we have discovered through research, how we frame the task and legislate for it, and how we design for and with children. Designing Cities with Children and Young People ultimately aims to bring about change to planning and design policies and practice for the benefit of children and young people in cities everywhere.
You can order the book from Routledge (paperback, hardback, eBook) here.
POSTED IN General
May 23, 2017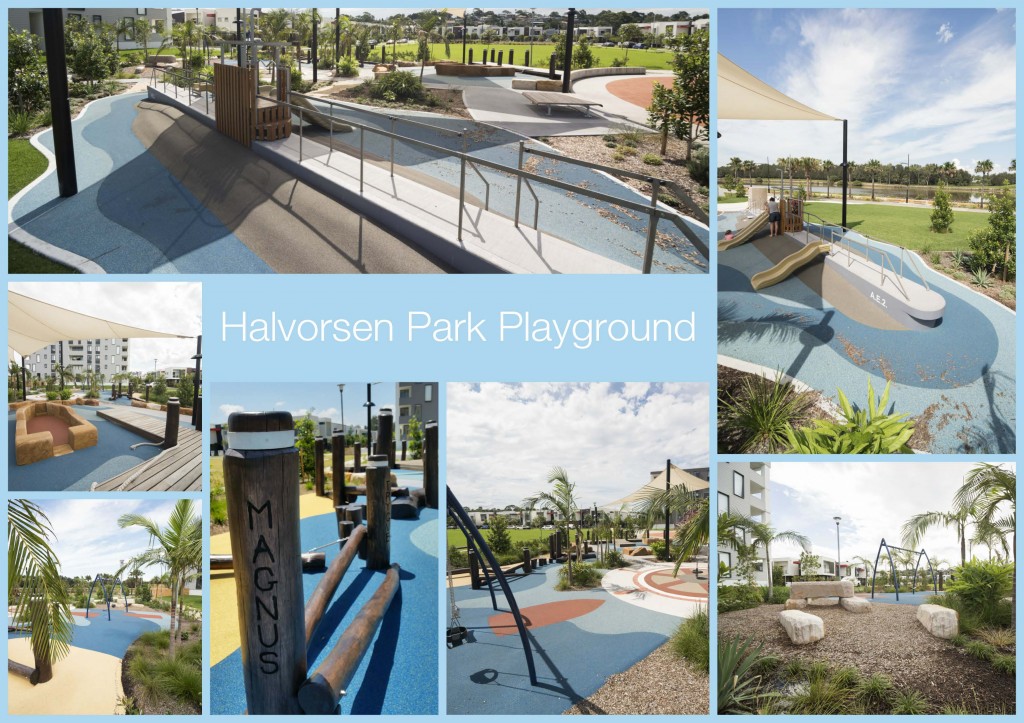 Our office is so excited and proud to be the recipient of the Regional (NSW/ACT) Playspace Award (<$0.5M) for Halvorsen Park. The project was an historic, creative design challenge, telling the story of one of Australia's first submarines, HMAS AE2, an E Class Submarine, and the Halvorsen family who built 1500 leisure boats in Australia, and 250 boats for the Allied forces during WW2, 178 of which defended Australia. Many of these boats were built in Ryde, near the site of Halvorsen Park!
The park welcomes the community to a space that provides natural elements, imaginative playground equipment, action oriented playground equipment, seating and sun protection. A community survey demonstrated that the public are extremely satisfied with their new park.
This award is also for all the artists that collaborated with us (stonework, timberwork, concrete stain artwork, rubber artwork) – the beauty of the finished product is a tribute to their work! Green Fern Landscaping did a wonderful job building and coordinating all the works for this playground – flawless!
POSTED IN General
May 2, 2017
Fiona will be attending the World Forum on Early Care and Education in Auckland this May, presenting with fellow academics on the "Journey Into Nature" – discussing current issues in design for children and the future of outdoor/nature play.
This forum is a unique opportunity for our office to connect with the international play industry, and to learn about other countries' approaches to nature play, and what strategies other major cities adopt in meeting modern childcare challenges.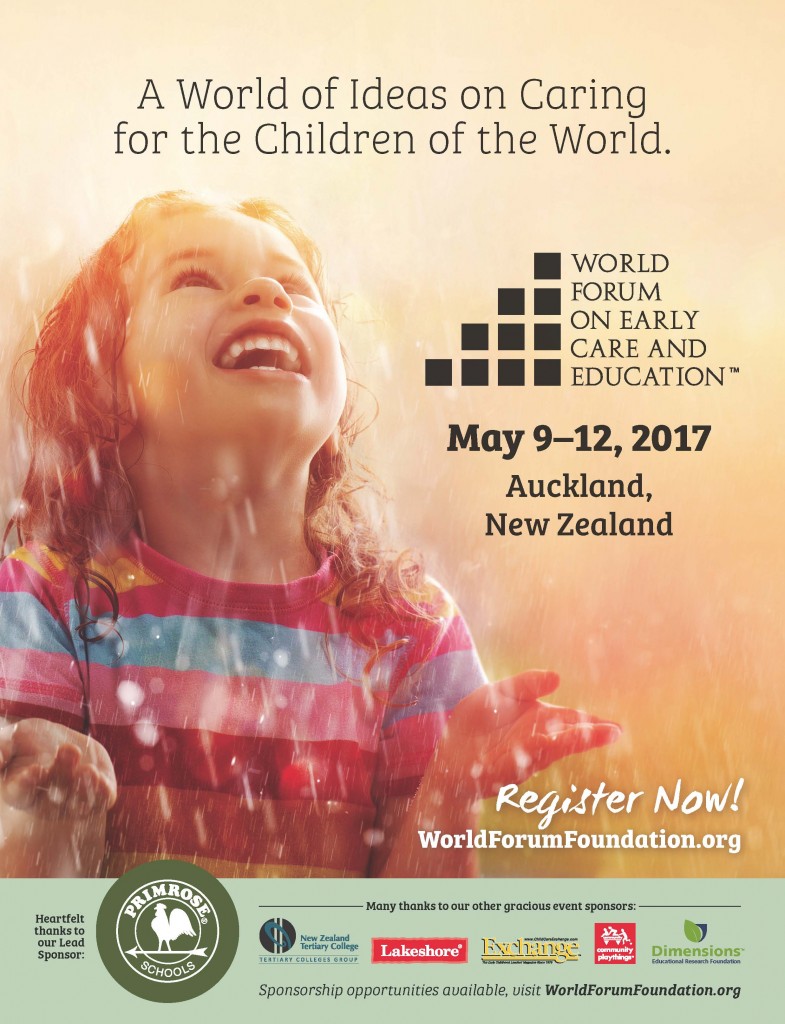 Click on the image to be redirected to the World Forum website
POSTED IN General
November 23, 2016
It's all been happening in Canberra!
The 2016 International Festival of Landscape Architecture was hosted in Canberra from 27-30th October; aiming to connect the public with landscape architects. Amongst the exciting program was KIDSCAPE on Saturday 29th October in Haig Park- a free event of endless fun! 1000 people supported the event, with both kids and parents having fun participating in the various activities, such as:
Slack lines
Cardboard cities
Pump bike track
Mud kitchen/play
Kids parkour
Storytelling
Gardening activities
Lego building
We were central to the team making this festival and play day happen. KIDSCAPE was like an International Play Day, others of which Fiona has attended in Berlin and Hong Kong. 'I was so proud to be part of a day where children were invited to participate in nature-based free-play activities,' she said.
Fiona conducted a session of Gulliver's Mapping – a consultation workshop encouraging kids to share views and ideas on Haig Park's spaces.
On the success of this event we hope to see (and be involved in) more like it in Australia!
POSTED IN General
June 7, 2016
AILA has announced the winner of Australia's Best Playground, and the regional winners:
Congratulations to the City of Melbourne – with Nature Play at Royal Park. The title of Best Playground is well deserved!
Our own Lizard Log Plaground and Yokine Regional Inclusive Playspace won for the ACT/NSW and WA/NT/SA/QLD regions!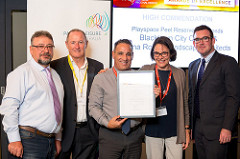 At the end of last month PLA held their 2016 conference and Awards of Excellence dinner. Blacktown City Council and our office received a High Commendation under Playspace:major (>$0.5m) for Peel Reserve, The Ponds!
We are all so proud of this project and very pleased to see it recognised amongst other great landscape projects!