4 / 4 / 17

WHAT TO DO WITH A TREE IN YOUR CHILDCARE CENTRE THAT IS CONDEMNED
In recent years regulations for large, ageing trees in public areas have become very safety conscious: particularly in school and childcare centres trees have to be regularly inspected. As a result mature trees can be deemed as dangerous (due to dead/dying branches, a weak root system, decay/disease or other signs of an unhealthy tree or potential hazard), and removed from the site.
While eliminating potential human injury or damage to infrastructure, removing established trees also eliminates essential outdoor features for schools and childcare centres: provision of shade, connection to the environment, place-making and imaginative play.
However! There is a solution to this loss: if a tree is marked as dangerous and needs to be removed, it does not necessarily have to leave your school or childcare centre forever. Large tree trunks may be able to remain in situ, hollowed out and converted into a cubby! Branches of various sizes from the same tree can be used to create further structure to the cylindrical space, or imaginatively carved to create other wonders like animals or pretend fire places.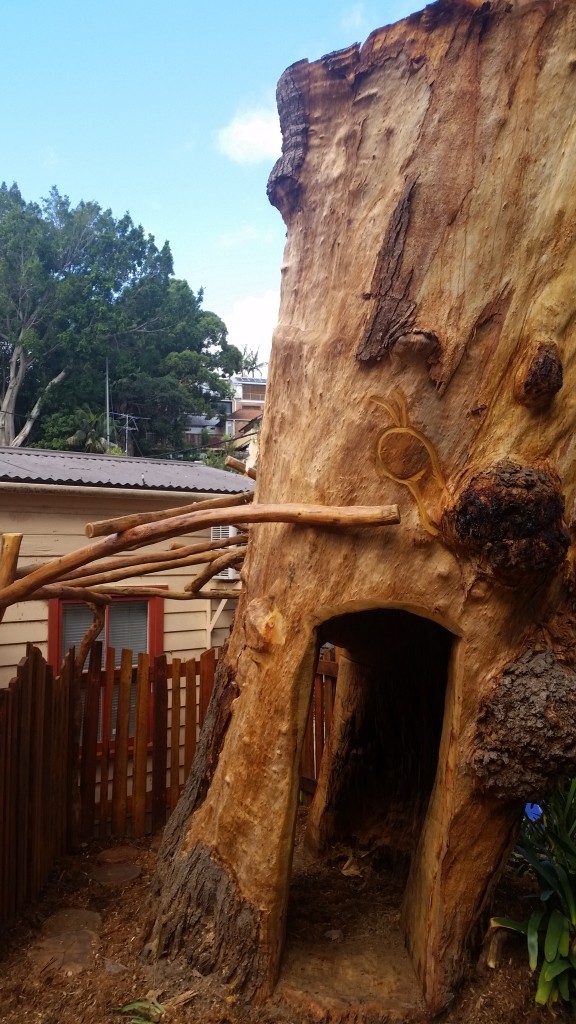 North Sydney Family Day Care have enlisted the services of Andrew Smith and successfully converted a large Eucalyptus Elata into a beautiful cubby and adjoining space for children. Slices of the trunk have also been used to form steps up to some existing play equipment. Other uses of your condemned tree could include seating, balance beams, railings, a post box, or even mulch for a garden! The possibilities are endless!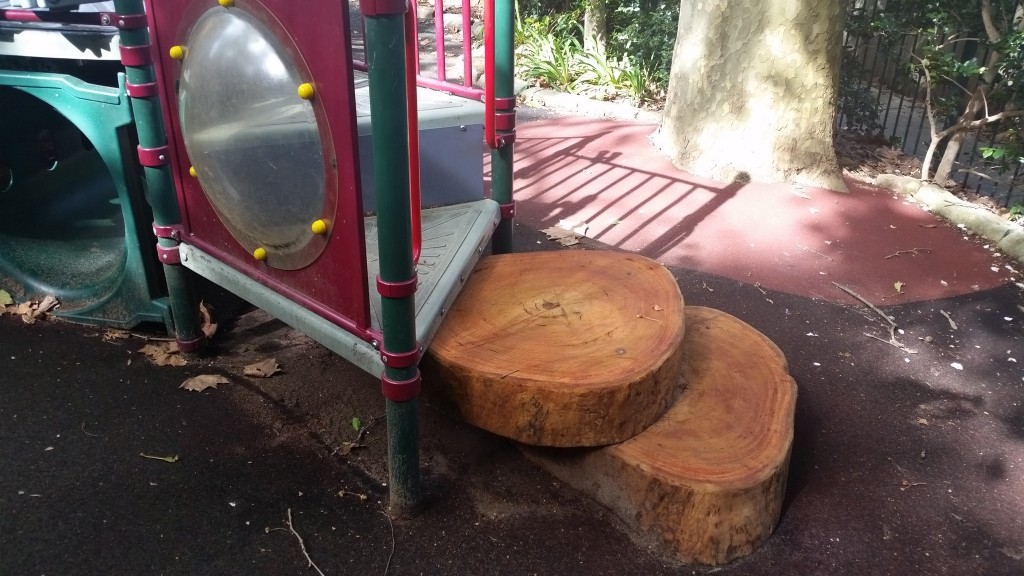 WHY IS THIS A WIN FOR PLAY?
Cubbies provide an array of experiences for children, from games of pretend and hide and seek, to an introduction to building and decorating cubbies. Open branch roofs like North Sydney Family Dare Care have constructed attached to their trunk cubby create a frame for children to experiment with their own ideas for making roofs and walls. Cubbies also engage children's social skills of sharing, space, team work and constructive discussion (as would occur when building a cubby). An additional bonus of converting an existing tree is that it provides learning opportunities: how does a tree become a house? what are the rings inside the tree? Recycling your tree means children can continue to enjoy natural play experiences with some new imaginative cues!