---
St Ives Showground, St Ives NSW
See this article from Ku-ring-gai Council, and comments from the local community on these Facebook posts:
Ku-ring-gai Council
"Well done everyone that was involved in building this great park. You should be very proud!!" – Karen
St Ives Showground
"Thank you so much Ku-ring-gai Council. Went there today, it's magnificent" – Becky
---
Hennessey Tape Oval, Bowraville NSW
See these articles from the Nambucca Guardian:
New Bowra playground the pride of the town
"This is unreal – we don't have anything like this in Kempsey" – local dad
"Did you know, this is my favourite park. EVER!" – local kid!
Bowraville park gets even better
"It changes the dynamics in the community – it gives us a sense of pride. It's such a wonderful feeling that Bowra has something so beautiful. And it's changing the way other people see Bowraville – now they come here to check out our park." – Jaanymili Baawrunga's Penny Stadhams
And comments from the local community on this Facebook post
"Stayed there until dark tonight! It's just too much fun!" – Alynda
---
Jo Wheatley All Abilities Playspace, Dalkeith WA
See these blogs and social media posts from the Dalkeith community:
---
Lizard Log Playground, Western Sydney Parklands NSW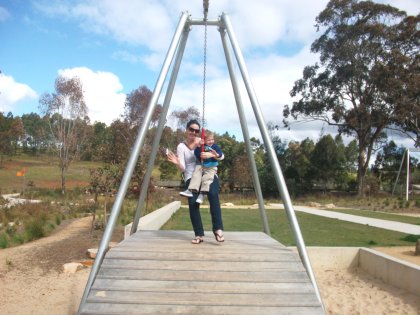 Jennifer Leathers and Taj: My husband and I, along with our two year old son Taj, found this fantastic park when we were driving in the Abbotsbury area.
After spotting the Lizard Log sign at the entry, we decided to investigate. Our son, who has autism, loved everything about this park. Taj has a lot of sensory processing problems and Lizard Log actually helped him with some of those issues. We were able to do a lot of therapy work at the Children's Nature Playground, which was just brilliant. Taj loves spinning so the spinning table was a hit. Taj was delighted when he spotted the flying fox, even the adults can enjoy this feature!
The picnic area itself is just lovely, there are great paths for walking and riding bikes. We were not expecting to stumble across such a great place and we now intend to visit on a regular basis. We have told all our family and friends about this little hidden treasure – I wish we had known about it sooner.
Adriaan: It is FANTASTIC. We loved the free movement between the spaces, the loose edges, the 'loose parts', the water, sand, sticks, stones. Our boys had a great time, and got really wet and dirty. We will definitely go back, and we're keen as mustard to visit the other related parks nearby… what you and others have put together at Lizard Log is just perfect – in a delightfully unfinished and 'imperfect' way, as nature is. Thanks for this 'gift' to western Sydney. Long may it be cherished, and a source of inspiration to other designers and to parents (let your kids loose in nature!).
Natalie: I was at the Pimela reserve portion of Western Sydney Regional Park with my three children today (boy 8, girl 6 and girl 2) …WOW!. I haven't been to that area for a few years and the transformation is amazing. I now have three tired, but very happy children at home and ready for bed. Congratulations to the designer of the facility. The play equipment is superb and was easily suited to my three children. The landscaping is also wonderful.
---
Yokine Playground, Yokine WA
Cath: The equipment is AMAZING and has to be seen to be believed!!!!! Giant musical instruments, climbing equipment, swings, slides, natural features, see-saws, things that spin, a great waterplay feature, sandpits etc.
Lis: Yokine Reserve has had a makeover and the new play space is awesome. There are your old favourites like the swings at the play space but also some different equipment to challenge your kids' imaginations and physical skills. The musical pieces including drums and this wooden xylophone were a hit with my kids, too.
Lauren: The newly opened Yokine Playground, at the Yokine Reserve on Wordsworth Avenue, is absolutely amazing! What I love about this playground that I have seen no where else is the double gated exit/entry points. This beautiful new playground has a natural feel about it with lots of beautiful, large shady trees and lots of nature play features. We definitely recommend heading to Yokine to check out this new playground – you and your kids won't be disappointed.
---
Endeavour Park, Kings Langley NSW
Blacktown City Council article:
Kings Langley local Tracey-Lee Fitzgerald, who attended the park opening with her children, Lucas and Talia, said she thought the playground was fantastic.
Jason: Kids have been busting for the park to open and they were not disappointed it is fantastic.
Amanda: The new park at kings Langley is amazing!!
---
Halvorsen Park Playground, Ermington, NSW
Vincent: Great open air playground. My kids (3 & 5 years) love it. We often stop here when we cycle along the river.
It's a quiet place at the heart of Ermington's rivershore village. Large sails offer decent shade for the toddlers play area.
Amy: Perfect little park for kids.
Wajih: Kids love the playground. The park has a serene atmosphere, and is right next to the river.
---
Esplanade Park, Singapore
Evan: A hidden find – perfect for a 5yo. We discovered this by accident, but ended up spending half the day here. My daughter just loved the playground – especially the bells.