Over the last couple years we've worked closely with Waverley Council on an Inclusive Play Space Study Report. This report is a supplement to their overarching Play Space Strategy, with the idea being to provide an extra level of detail on the inclusive aspects of play provision in the LGA.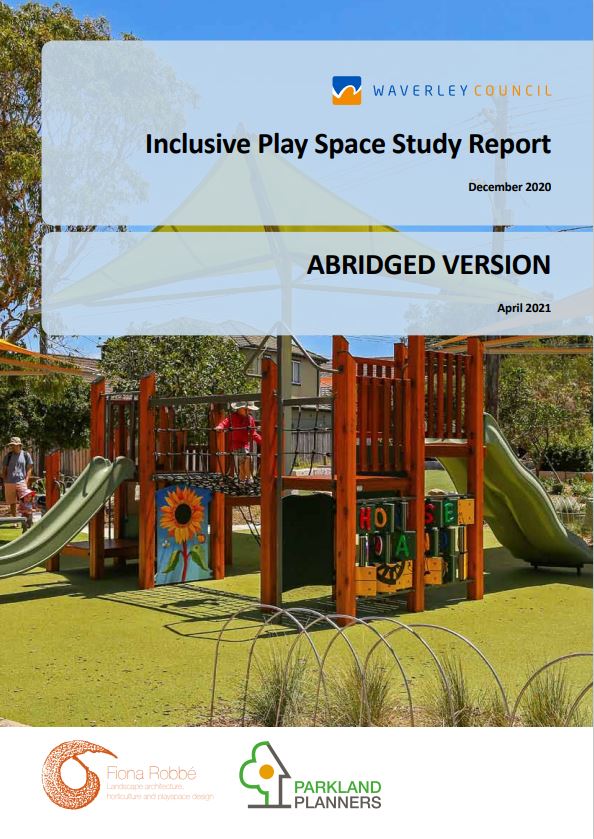 One of the key outcomes of the Study was the development of inclusive play space design principles and evaluation criteria checklists, which are applicable well beyond the Waverley LGA. So – we have now developed an Abridged Version of the IPS Study, as a more accessible and useful document for designers, specialists, planners and anyone else who is interested in inclusive play theory and principles!
The objective of the Abridged Version is to provide practical guidance on inclusive play space design – translating best practice policy into actionable principles.
As anyone who works in the disability sector knows, inclusive design exists on a sliding scale of possibilities, and usually involves compromises. So of course there is no such thing as an "ultimate" guide! But through extensive consultation with the disability sector, research, and experience, we've come up with what we could consider a bloody good place to start!
The Abridged Version is available to download from the link below. We hope it will be of use to you, and would love to hear how you've put the principles into practice in your designs!
And of course – the full Inclusive Play Space Study Report is available for anyone interested in a deeper background to the work (consultation methods, existing play space provision, etc.), and how it can apply to a specific LGA. Read the full report online, or access the complete Document Library.