27 / 4 / 17

Here is a nifty idea for keeping your sandpit sand free of leaves, mulch and other debris: provide a sieve in your sandpit, and let children have the fun of sieving the sand!
The sieve can be fixed or portable:
Kellyvlle Public School: fixed sieve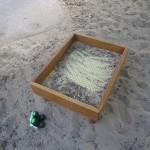 Werrington Childcare Centre: portable sieve
Providing fun coloured buckets and spades will encourage children to carry greater amounts of sand to the sieve. Another bucket or bin near the sandpit can be a collection point for the 'treasure' they have sieved out from the sand, e.g. a box with a lid, a mini green bin (alike to the council sulo bins), or everything will be tipped back into the sandpit.
Children enjoy the tactile feeling of moving sand and a sieve is an extension of the feeling of pouring sand through your hands. Sieves can also be an inspiration for imaginative play: children could pretend to be cooks, garbage men, or even miners looking for gold!
*TIP: Why not ask your local men's shed to make you a sandpit sieve? Or Timber Creations could make you one, like they did for us at Kellyville Public School!