16 / 5 / 17

Are you short of engaging outdoor activities for older children at your centre? Here is a perfect activity for 4 to 5 year olds: a 'make space'. This is a dedicated area where children can create items using tools. The items may be made from timber, corrugated cardboard or tough plastics.
What you need:
a low workbench, with a small vice attached to it
a shadow pegboard for hanging tools
a bench to sit on
clearly demarcated area
hammers, saws, drills, clamps, nails, glue, string, cable ties, "make do" toolkit
a whiteboard/blackboard for sketching ideas
recycled materials: cardboard, timber, old pool noodles, plastic cups etc.
for  sense of fun: child size hard hats, goggles, gloves and fluro vests
the area would also benefit from having some weather protection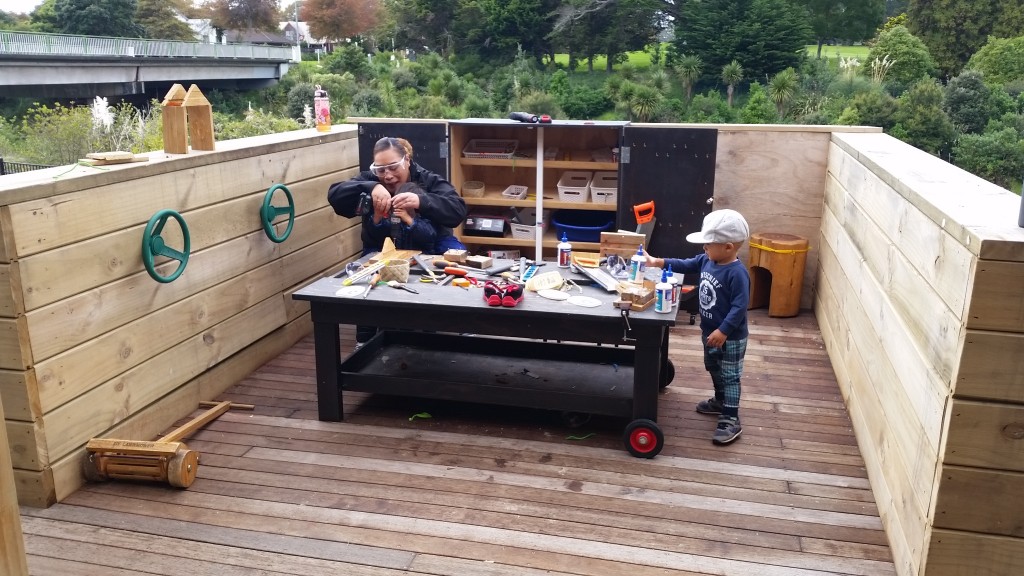 Children can exercise focus, problem solving and both fine and gross motor skills when entering the 'make space', under close supervision (maximum ratio of 1:3). Conceptualising a 3D project and then making it is a very complex process, which at 4 or 5 years old some children are starting to comprehend. A 'make space' is challenging both mentally and physically, and implementation of the areas are hugely popular in New Zealand and the United States of America.
'Make spaces' relate to the "theory of loose parts" introduced by Nicholson (1974, p. 233); "In any environment, both the degree of inventiveness and creativity, and the possibility of discovery, are directly proportional to the number of and kind of variables in it." Children are presented with this flexible opportunity in the 'make space' where they can embark on their own project or a group project, or simply enjoy constructive play.
Let's get this going in Australia! Here are some resources to get you thinking about the possibilities of your 'make space':
Makedo Cardboard Construction (international website)
References:
Nicholson, S. (1974). The theory of loose parts. In G. Coates (Ed.), Alternative learning environments (pp. 370-381). Stroudsburgh, PA: Dowden, Hutchinson, and Ross.