2014 has been an exciting and very productive year for Fiona Robbé Landscape Architects! Our practice has been involved in a myriad of multi-disciplinary activities which are a hallmark of our specialisation in design for children. We give talks, run playground tours, attend industry events,  are involved with playground standards, write articles, participate in interviews; you name it we're involved! In summary, our 2014 achievements include:
Completed Projects
Throughout 2014 a number of our playgrounds were constructed and opened; now being used! These are:
Collaroy Beach playground
Gleneaon High School amphitheatre and steps
St Marks Primary School playground
Janet Beirne Park
Kukundi playground
Tempe Public School playground
Kenthurst Kindergarten sandpit
Little Bay Cove playground
Standards
This year saw the introduction of the new Playground Standards AS4685, a huge achievement for our playground standards committee. It was an exacting process with worthwhile outcomes for Australian play design. Our aim was to make outdoor play more challenging within a risk-benefit-assessment framework.
We are now working on updated versions of AS/NZS 4422: Playground Surfacing – Specifications, Requirements and Test Method, as well as AS/NZS 4486.1-6: Playgrounds and Playground Equipment. This update harmonises all aspects of playground provision into one approach.
About to be released in 2015 is an updated version of AS4685.11; the Spatial Network standard, which brings the 2012 edition of this standard into 2014 thinking.
None of this is for the faint-hearted, but the new standards represent such progress for the playground industry!
Playground Tours
We are proud to have collaboratively run 2 playground tours this year. This is a collaboration between Kidsafe, AILA and PLA (and our office, of course).
1. The first playground tour, in July, took the group to the Children's hospital at Westmead. We talked about the new standards and their application to playgrounds.
2. The second tour, in November, went to the Northern beaches (Collaroy playground and Winnererremy Bay playground). The topic of discussion was shade provision in playgrounds.
Playground tours continue to be popular for a broad range of participants, and are an exciting way of engaging practical theory and connecting like-minded people.
Our next playground tour is scheduled for the 24th February next year, and will focus on fitness equipment.
Talks
Fiona continues to share professional insights into outdoor children's play across a number of disciplines Australia wide. This year she has given 8 talks, spread between:
2 in Perth
1 in Brisbane
5 in Sydney (3 University lectures)
Awards
FRLA has won three awards this year:
1. Merit Award for Design – Yokine Playground
We are proud to receive a design award, as it is often difficult to be recognised for our achievements in inclusive play
2. Premier's People Choice Award for Public Space – Lemur Forest Adventure, Taronga Zoo
It's great to see a playground project being voted as a favourite outdoor space of Sydney-siders. (For our third year in a row!)
3. Adventurous Play Spaces Award – Calista Oval Playground
This award recognises our innovative approach to consulting with children, in decisions which affect their lives. It is heart-warming to be recognised for this part of our unique design process.
For the full list of awards FRLA has received over the years, see our Awards Page.
Construction
We're really looking forward to the construction of the following projects in early 2015:
Kellyville Public School K-1 Playground
Peel Reserve, The Ponds – for LANDCOM/Blacktown City Council
Reconciliation Park, Redfern – City of Sydney
Jamison Park, Penrith – Penrith City Coucil
Lady Gowrie Children's  Centre, Erskineville, Gowrie NSW
St Christopher's Primary School's central playground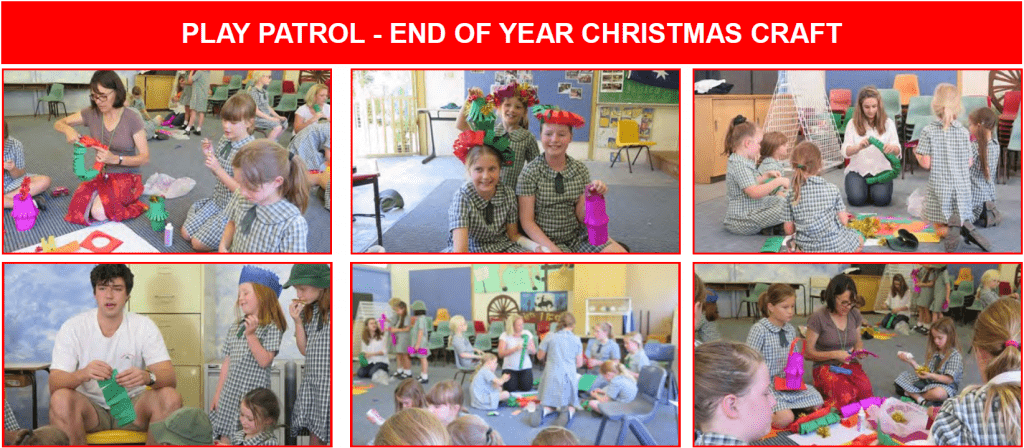 Fiona, Jacqui, Alice and Lachlan concluded our year of involvement at Arcadia Public School with a Christmas craft session. Our weekly involvement with children at the school keeps us up-to-date with children's culture. Fiona visits the school weekly for games and fun at lunch, with students ranging from Kindergarten to year 6!
2015 promises to be full of exciting achievements for children, and we look forward to delivering these. Merry Christmas and Happy New Year from Fiona, Rolfe, Debbie, Jacqui, Alice, Lachlan and Badja!