On Australia Day we are considering what being proudly Australian means to our practice. Our approach is that our projects are inspired by Australian culture: theming, planting, materials and equipment celebrate the Australian spirit!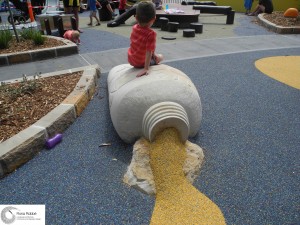 Our aim is that anyone anywhere in the world would look at our work and say "How Australian"
Some examples that illustrate our philosophy are:
Collaroy – the Aussie Beach scene, with sunscreen sculpture!
Nurragingy-Kookaburra – Australian Fauna and materials (e.g. Australian hardwoods)
Yokine – Karratha stone, Jarrah timber and the Honky Nut tree
Coincidently, we are currently designing a playground in Endeavour Park, Sydney, which embraces James Cook's landing in Botany Bay in 1770. Cook mapped the East Coast of Australia, thus enabling the First Fleet to navigate their landing on the 26th January 1788!