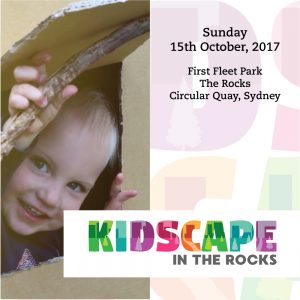 KIDSCAPE is part of the International Festival of Landscape Architecture and is aimed at making sure kids understand the importance of open space in our communities. On Sunday 15th October, KIDSCAPE will offer FREE fun outdoor activities for all kids, from 3 to 13yo. Come and play at First Fleet Park in The Rocks for a day of discovery, learning, playing, planting, building and more!
Fiona will be speaking at the Festival, and facilitating the Gulliver's Mapping activity at KIDSCAPE this year. Click here to see a video and read about last year's KIDSCAPE, held in Haig Park, Canberra.
Secure a spot on some selected activities by registering online or just come along on the day from 10am – 4pm, check the KIDSCAPE website here for more details. See you there!